The Latest Meisner News
---
MOLLIE B TAPING A GREAT SUCCESS
August 8, 2014
It was a great time for Steve and the guys as they traveled to Medina, Minnesota, to take part in the latest taping for the Mollie B Polka Party television show on the RFD cable network. Steve, along with Rick Hartmann, Denny Anderson and Don Hunjadi performed at the Medina Entertainment Center in front of an estimated crowd of 750 in attendance. The band recorded a total of seven seperate show segments that will begin airing in Fall and likely run into next year. A total of 21 songs were completed including many Verne Meisner classics like Polka 76, Autumn Leaves, Sugar Bush, Memories of Vienna, Doreen Waltz, and even El Rio Drive. Also in the lineup were tunes featuring three and four part vocal harmonies from all of the guys, plus the yodeling of Denny Anderson, Don Hunjadi featured on flute, and even Don's popular original, Howg Wobbler polka. Of course several of Steve's original tunes were also part of the lineup with the Sailor Song, Wildflower Waltz, and Meisner Magic topping the list. Be sure to watch for Steve's new segments coming soon to the Mollie B Polka Party Show.
---
SIX STATES IN THREE WEEKS AND EVEN MORE TO COME!
August 1, 2014
After returning from a great trip to Ohio and Pennsylvania in late July, the Steve Meisner Band will continue down the road with performances in Wisconsin, Minnesota, Michigan and Illinois. The new Meisner Jammin Van first heads to the St. Croix Casino in Turtle Lake, Wisconsin, for a Sunday afternoon performance on August 3rd. Steve returns to the Milwaukee area the next day performing at the Budweiser Pavilion inside Wisconsin State Fair with performances on Monday and Wednesday. Thursday takes the gang back to the Northwest - this time to the Medina Entertainment Center to record a bunch of new songs for the Mollie B Polka Party on RFD Television. Tickets will be available at the door to put you on television with Steve and Mollie B. The following weekend it will be a bus rather than the Meisner van taking the band, along with some Meisner fans, to the Frankenmuth Music Fest on August 15 and 16 before stopping in at the Croatian Cultural Club in Joliet on the way home Sunday evening. All told Steve and the band will have traveled nearly 3,000 miles over the last three weeks bringing Meisner music to your area. If youíre going to be somewhere along the route, be sure and make plans to stop by!
While the travels may not be as wide and broad, the events schedule will continue into September with a variety of opportunities to catch some Meisner music. The Labor Day weekend brings Steve back to the Oak Creek VFW Lions Festival on Sunday, August 31. On Labor Day, September 1, itís back to the Schwabenhof for their annual Oktoberfest. After many years of performing Sunday afternoon at Gemuetlichkeit Days, Steve moves this year to Saturday night in the Black Forest at the Jefferson Fairgrounds for another G-Days performance. One week later itís back to Northwestern Wisconsin for two days at the Chippewa Falls Oktoberfest. This event continues as one of the largest of its kind hosting Steve and the band on both Friday and Saturday. Unfortunately, this will start to put a close on the outdoor events as you know what will be right around the corner. Actually, letís not even think about that, just come and enjoy the warm weather, great music and fun at some of these Steve Meisner Band performances.
---
MEISNER BAND RETURNS TO FRANKENMUTH
June 3, 2014
When the 19 year run ended, the last time the Steve Meisner Band performed at the Frankenmuth Summer Music Fest was in 2009. Many Meisner fans can recall great memories spanning nearly two decades at the festival. Now, for the first time in five years, Steve is headed back to Frankenmuth for the 2014 Music Fest, performing on August 15th and 16th. Even better, if youíre from Southeastern, Wisconsin, Steve is hosting a bus trip to the event so you can be there too! Meisner Fans from other parts of the country will no doubt also be headed to Frankenmuth for this long-running event. It will be great to see friends and fans both old and new. Fans interested in traveling with Steve can get complete details and even book the trip on-line from Steveís website. The bus will depart from Hales Corners, Wisconsin for Friday and Saturday at the Music Fest together with two nights at the Bavarian Inn. On Sunday weíll visit the Croatian Cultural Club in Joliet, Illinois for one more evening of Meisner music before returning home. Get all of the details right now by clicking the links below.

---
RETURN TO THE MOLLIE B POLKA PARTY
May 28, 2014
Itís already been three years since Steve Meisner, Rick Hartmann, Denny Anderson and Don Hunjadi appeared on the very first taping of the Mollie B Polka Party show. Those episodes still air but on August 7th, Steve along with the same guys will tape their second Mollie B show. this time at the Medina Entertainment Center in Minnesota. If youíd like to be on television with Steve and Mollie B, tickets are available right now. Even if we donít see you in Medina, youíll soon see us on the Mollie B Polka Party with a great selection of new songs.
---
STEVE WINS 5TH WAMI AWARD
May 1, 2014
On April 27th Steve lead an all-star, seven-piece, super band - one of four bands at the Polka Parade radio show annual dance in Milwaukee. The extra-large band was sponsored in part by Meisner fan Ken Rosin. At the same time the Wisconsin Area Music Industry (WAMI) was holding their 34th annual awards show in Appleton. Just as Steve and the super band were performing he was also being announced as the WAMI Polka Artist of the Year at the award ceremony. Regrettably, Steve was not able to accept the award in person. The last WAMI win for Steve was in 2010 with previous WAMI's in 2001, 1996 and 1989. The WAMI awards have a rich tradition in Wisconsin helping to highlight the great variety of talent that the state has to offer - including polka music. Even though Steve was not able to accept the award in person he greatly appreciates being selected from the roster of seven finalists.
---
MEISNER TIME WINS IN TWO SEPARATE AWARDS
April 15, 2014
It has been an exciting time both for Steve Meisner and for his 2013 CD release, Meisner Time. Two separate, nation-wide, organizations have voted Meisner Time the best Slovenian Style polka release in 2013. The first organization to release their award winners was the Polka America Corporation (PAC), where Meisner Time finished on top as the Best Slovenian CD in the 2014 PAC Awards. The PAC awards start with nominations and voting by industry experts followed by final ballots from voting members and the general public. Only days later it was the 24/7 PolkaHeavenís Best of 2013 that likewise announced that Meisner Time had been voted number one across all of the Slovenian Style releases in 2013. Sweet Jennie Lee took top votes for the best Cleveland-Style, Contemporary, Polka Variety Song of 2013. The 24/7 IJs nominated the finalists before more than 32,000 votes were cast by listeners world-wide during their week-long voting for the 24/7 PolkaHeaven awards. With a national audience voting, Meisner Time was placed on top by both, separate and independent, organizations. Steve wants to thank everyone who took time to vote in all of the recent awards, and added "It is a privilege to be included and counted among so many wonderful recordings and talented people.Ē. If you donít have your copy of the award winning Meisner Time, youíll certainly want to have it in your music collection. Itís available in both CD and MP3 download from the merchandise page as well as many local and Internet sources. Better yet, pick up a copy at one of Steve's next performances! See for yourself why polka fans everywhere say Meisner Time is number one.
---
SPRING INTO SOME GREAT EVENTS
April 1, 2014
The thermometer may say otherwise but it really is spring! No matter the temperature, there is a string of hot music events waiting just around the corner and the Steve Meisner Band will be there! It all starts with the Old Time Music Fest at the Silver Dome Ballroom in Neilsville with four great bands including Steve on April 26th. On April 27th Steve will lead a 7-piece, All-star Super Band for the WJYI, Polka Parade annual fund raiser dance taking place at Serb Hall in Milwaukee. Music starts at 12:30 with the International Main Street Polka Band followed by Clevelandís Eric Noltkamper as he reunites with the Sidemen band. Hank Thunander will perform with a full Cleveland-style band before Steve closes out the day with the All-Star Super Band. Seeing a full 7-piece band with two accordions, sax, banjo/guitar, string bass, drums and piano, is very rare these days and you won't want to miss it. Then on May 18th Steve will once again return to the Olympia Village in Oconomowoc for day three of the Wisconsin Polka Fest. These are some truly great polka events that will launch us into the summer season Ė including Steveís first trip in two years to Ohio and Pittsburgh this July. So, Spring into the schedule page to check the schedule, call your friends, and make plans to see steve and the guys performing weekly near you.

---
THE FUN CONTINUES AT POTAWATOMI CASINO
April 1, 2014
Imagine a place to dance and listen to the Steve Meisner Band without paying a cover charge. Imagine a place with valet parking. How about complimentary coffee and soft drinks in designated locations, plus happy hour drink specials in the bar? Then add in a total of six restaurant options from quick and casual to fine dining. Now throw in an afternoon of great music from Steve Meisner. Could such a place actually exist? You bet it does. The third Thursday of every month is the time and the Fire Pit Side Bar inside the Potawatomi Casino in Milwaukee is the place. What really could be better? No charge to get in, drink specials, and plenty of ways to make a day of it. Who knows, you could even win big on the casino floor or in the bingo hall. If itís been a while, or if youíve never stopped by, youíve got to get to the Potawatomi Casinoís Fire Pit Side Bar on April 17 to see Steve from 2-6. Other dates include May 15, June 19 and July 17. No matter the date, itís always the third Thursday of the month for Steve Meisner at the Potawatomi Casino.
---
View the Meisner News Archives
October 29
Pulaski Inn - Cudahy, WI
November 9
Hiawatha Bar - Sturtevant, WI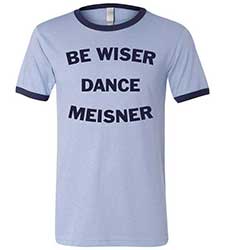 Brought back from 30 years ago
but still brand new for 2014!
Get your retro
Be Wiser Dance Meisner T-Shirt