The Latest Meisner News
---
OUR LONG, LONG WINTER CONTINUES
February 17, 2014
Just about everyone will agree... this has been a winter to remember! There's never been a better argument to travel to Florida or Arizona or anyplace warm and snow-free, rather than face yet another day of sub zero temps and more snow. Spring will have to get here sooner or later and we are all ready! Apologies go out to anyone inconvenienced by the many cancellations over the past several months. It's always a good idea to check in here at www.SteveMeisner.com to make sure that either snow or sub-zero temperatures hasn't forced a last minute cancellation of the performance. We'll provide you with the latest info. In the meantime, stop out and catch Steve and the guys for a hot performance sometime soon. We'll take your mind off of the weather with some of your favorite tunes. Hope to see you soon!
---
MEISNER MERCHANDISE ON SALE FOR THE HOLIDAYS
November 24, 2013
The holiday season is once again upon us and about to kick off in full-force with "Black Friday" along with "Cyber Monday" on-line. It's pretty hard to escape. Meisner merchandise is not left behind by Black Friday or Cyber Monday as everything in the on-line store comes with free shipping on every order over $25! This means real savings for you – as in up to 20% off of regular total prices. The Meisner Holiday Sale free shipping offer runs from Thanksgiving through Christmas Eve and is good on every single item in the Meisner store. But that's not all, make your purchase anytime on Black Friday, November 29 through Cyber Monday, December 2, spend $25 or more, and not only will you get free shipping on your order, you'll also get a Meisner Time T-Shirt free with your order! That's a $10 value making your total savings something you just don't want to miss. What could be easier than starting your Christmas shopping with some Meisner music for your family and friends? Free shipping on any order over $25 from Thanksgiving through Christmas and a free, $10 value, Meisner Time T-Shirt on any order over $25 purchased between Black Friday and Cyber Monday 2013. What a great way to kick off the holiday shopping season - Meisner style!
---
STEVE ON THE BALLOT FOR MORE AWARDS
September 21, 2013
Steve Meisner is once again on the ballot to be inducted as a life-time achievement winner, this time into the Wisconsin Polka Music Hall of Fame. Last year the Cleveland Polka Hall of Fame placed Steve into this coveted category of lifetime achievement honors - the highest award presented by most organizations. Now, for 2013, Steve has been added to the ballot for Lifetime Achievement honors with the Wisconsin Polka Hall of Fame. Back in Cleveland, Steve's Meisner Time CD is up for Recording of the Year. Both the Wisconsin and Cleveland Halls of Fame rely on votes from the membership to determine the award winners. Any Meisner fans who are members of either the Wisconsin or Cleveland Style Polka Hall of Fames are encouraged to return their election ballots prior to the deadline. Of course a vote for Steve in any of the categories is also greatly appreciated. Both Halls of Fame will hold their awards shows later this year.
---
CATCH STEVE LIVE OUTSIDE IN WEST ALLIS
July 27, 2013
West Allis, Wisconsin will be the place to see Steve several times during the first days of August. It starts with the rain date for Veterans Park near 70th and National where Steve and the band make their second attempt to perform for the free, summer concert series. The first attempt was rained out so don't forget to come out for the rescheduled free concert with Steve, hopefully under a clear sky this time, on August 1st. Four days later the band travels just up the street from the West Allis Veterans Park to the West Allis State Fair Park where the band once again performs at the Budweiser Pavilion. This year's dates are Monday and Tuesday, August 5th and 6th starting at 11:00 AM and running until 2:30 PM. It's a great time to visit the Wisconsin State Fair and if you do, be sure to stop by and catch a set or two with the Steve Meisner Band!
---
BIG WEDDING WEEKEND ALL SET
July 2, 2013
The Steve Meisner family will celebrate the wedding of Steve and Barb's middle child, Lindsey, as she marries Nik Martin at a private celebration on Saturday, July 20th. The party will keep going on Sunday as everyone heads to Rick's Eastside Pub in Whitewater for an afternoon of great music with the Klancnik & Friends band together with the Steve Meisner Band. The music will get underway starting at 1:00 PM and run throughout the afternoon alternating with both Klancnik & Friends and the Steve Meisner Bands all afternoon long. There is no coverage charge to attend! Don't miss this chance for a great afternoon of fun at Rick's Eastside Pub with two of the hottest bands in Slovenian style polka music. It will be a great way to wrap up the second Meisner wedding in two years.
---
STEVE NOMINATED FOR WISCONSIN AREA MUSIC INDUSTRY AWARD - WAMI
March 11, 2013
The Wisconsin Area Music Industry (WAMI) awards have been presented to the best Wisconsin musicians in a variety of categories for over 30 years. The WAMI is a volunteer organization whose purpose is to educate and recognize the achievements and accomplishments of individuals in the Wisconsin music industry. The group also utilizes its funds to provide a Youth Music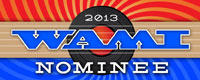 Showcase and provide scholarships to students and emerging artists. Steve has been nominated in several categories over many previous years and has won in the polka category several times. The WAMI committee recently released the nominees for 2013 and once again Steve Meisner has been nominated in the polka category. The awards show will be held at Turner Hall in Milwaukee on April 14th. Information about the WAMI as well as tickets for the awards show are available directly from their website. Steve is both pleased and proud to once again be nominated for a WAMI at their 33rd awards show.
---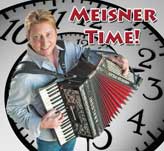 MEISNER TIME CD RELEASED AT RELEASE PARTY
February 10, 2013
The wait is over! At long last the new and long-awaited Meisner Time CD has arrived to the Meisner Mansion nearly two years to the day after it was started. The original recording session took place on January 24 and 25, 2011 and the shipment of CDs arrived on January 25, 2013. To help celebrate, Steve and the band hosted a CD release party on Saturday, February 9th at Rick's Eastside Pub in Whitewater, Wisconsin. Fans were able to hear the actual recording band perform all of the songs on the CD, plus many other favorites as well as pick up a copy of the brand new Meisner Time CD together with their free Meisner Time T-Shirt, given away only at the CD release party. It was a packed house taking advantage of hearing a rare five and sometimes six-piece band live on stage. If you missed it, Meisner Time CDs along with some pre-view samples are now available on-line from the Merchandise page. Hear portions of six songs from the new CD then order yours right now! Click on the image to the right to see the new Meisner Time CD cover, or click here to see the back side of the CD package, including song titles and CD information. COVER BACK
---
GREAT PHOTOS FROM THE HEATWAVE POLKAFEST
January 23, 2013
Steve, Don Hunjadi and Tom Brusky were recently captured on stage by photographer, Dick Blau, as they performed for the Heatwave Polka Fest at the Amerahn Ballroom in Kewauskum. When the band arrived early Saturday evening, it was something of a Heatwave for January in Wisconsin with temperatures nearing 50 degrees. By the time the performance had ended only a few hours later, it was anything but tropical as a blizzard of sorts had moved in dropping temperatures into the single digits and blasting wind gusts over 40 miles per hour! At least the music inside was still hot, hot, hot with Steve and the band. See some great photos right here and don't forget about all of the other recent photo adds available from the PHOTOS page.
---
STEVE INDUCTED INTO CLEVELAND STYLE POLKA HALL OF FAME
November 26, 2012
It was a big weekend for Steve as he became both the youngest inductee and the first father-son inductee into the Cleveland Style Polka Hall of Fame. Steve and the band performed at the Thanksgiving polka festival during all three days of the event as well as appearing in the 25th anniversary awards show on Saturday. Photos and video from the weekend's events have already started to appear on Facebook and You Tube. Check out some of the photos and video from the 2012 Cleveland, Thanksgiving weekend events.
---
View the Meisner News Archives
March 16
Hiawatha Bar - Sturtevant, WI
March 20
Potawatomi Casino - Milwaukee, WI
March 28 & 29
Essen Haus - Madison, WI