Steve to be Inducted into International Polka Association Hall of Fame
April 24, 2019
The slate of award winners have been released by the International Polka Association (IPA) with Steve Meisner being inducted into the IPA Hall of Fame in the living category. This is the top honor bestowed by the IPA to the very best polka musicians from across the country. In addition, for the 2018 music awards, Steve has again been voted as the "Best International Male Vocalist," having won this award for 2017 as well. And if that's not enough, the Steve Meisner Band has been named as the "Favorite International Style Band" for 2018. "I was surprised and am honored to be included with such a talented group of artists and friends," said Steve. "Thank you to the IPA voting membership and the talented group of musicians who work regularly with me, Don Hunjadi, Jerry Beiniek, and Chris Doszak, to mention a few." If a total of three awards from the IPA in one year is not enough, Steve, was also a guest artist on the "Favorite International Style Recording" for 2018, Home, from LynnMarie and Eddie Rodick III. The induction and awards presentation will take place over the Labor Day weekend, during the 51st Annual IPA Convention and Festival in Buffalo, New York, August 30 through September 1, 2019. Get more information on the awards and the Labor Day festival from the IPA website. Pick up, Home, the 2018 award-winning CD along with any of Steve's other CDs from the Merchandise Page of Steve's website.
---
Catch Steve Live During Fundraiser Showing of Polka!
March 1 , 2019
Throughout the year, and especially during winter and early spring, public television runs several fund-raising events. On Wednesday, March 13, Milwaukee Public Television, WMVS, Channel 10, will be re-running the popular Polka! documentary that debuted two years ago. To help with the fundraiser, Steve will be live in the studio prior to the start of Polka! and during the breaks of the documentary. Steve will be part of the team starting around 6:30 with Polka! starting at 7:00. If you are in the Milwaukee area or are able to access WMVS, channel 10, you'll be able to catch Steve live as he performs "unplugged" for the television audience on Wednesday, March 13.
---
Steve Appears on New Lynn Marie and E3 CD - Available here
December 10 , 2018
It's a common question from Meisner fans... "Do you have any new recordings?" While the next full Meisner recording is still at least partially on the drawing board, Steve is excited to be part of a brand-new release from LynnMarie and E3 (Eddie Rodick III) called Home.Steve joins Lynn and Eddie on two songs of this fabulous new release. Don Hunjadi, who shares the stage with Steve at a majority of his performances, was also tapped to play on the recording. Hear Steve, Lynn, E3, Don, and other special guests by ordering a copy of Home now, at the special price of only $10! You can also pick one up at any of Steve's next performances.
---
Free shipping on all merchandise now through Christmas
December 1 , 2018
Even though the dust has settled and most of the big shopping weekend deals have ended, you can still save if you order anything from the Steve Meisner website. Meisner merchandise items make great gifts, so whether you want to get a CD, T-shirt, DVD or even a VHS tape, they all come with free shipping from now through Christmas. It's by far the best time of year to order. A brand-new T-shirt along with a couple of new CD titles are all waiting for you online right now. Take a look, place your order and save big $$$ with free shipping now through Christmas.
---
Cruise Deadline Extended Until Last Cabins Are Sold!
October 12 , 2018
The response to the Salute to Veterans Cruise Steve and the band is participating in has been tremendous! Over 270 cabins have now been sold with well over 500 people booked! Thank you to those who have booked early. If you're not one of them, now's the time as there are only 22 cabins left..There are still a variety of cabin classes available that still include the classic drink package and $150 on-board credit. The Salute to Veterans cruise sails from Miami to the Eastern Caribbean on Saturday, January 19th, 2019, aboard the Celebrity Equinox with four amazing ports of call: San Juan, St Thomas, Punta Cana, Dominican Republic and Nassau in the Bahamas. Throughout the week enjoy music and dancing with Jimmy Sturr and His Orchestra, Mollie B and Squeeze Box with Ted Lange, Steve Meisner Band, Canada Polka King Walt Ostanek with Bobby Kravos, Kenny Brandt Band, Chad Przybylski, dancers Matt and Elaine and dancers Randy and Ashley Thull along with your Master of Ceremonies Keith Stras. Don't miss out on this incredible cruise. More information, including a complete brochure, is available here or call Jimmy Sturr Travel at 1-800-724-0727 to book your cabin before they are sold out and prices increase.
---
New Be Wiser Dance Meisner T-Shirts and Woman's tanks Are Here!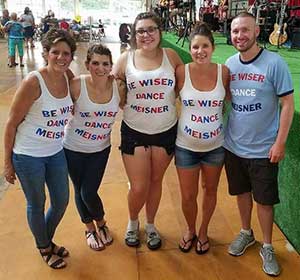 July 25, 2018
Check out the brand new Be Wiser Dance Meisner men's white T-shirts and for the first time, the exclusive woman's tanks are also now available to the general public. Some Meisner fans have seen these catchy woman's tanks being worn by members of the Meisner family. Now anyone can get their own Be Wiser Dance Meisner tank, with plenty of time to still wear them this summer. Place your order right now and you'll have it arriving in your mailbox in days. Check out the complete line of Meisner merchandise including these new shirts together with limited quantities of the earlier version. They are all waiting for you in the Merchandise Section.
Steve named Favorite international Male Vocalist by the IPA
June 1, 2018
Steve was both surprised and excited at the announcement that he was named by the International Polka Association (IPA) as their favorite International Style Male Vocalist for 2017. The International Style category was created several years ago in order to include a wider array of polka performers. The IPA Hall of Fame and Awards Banquet will be held on September 1st in Buffalo, New York. Although Steve has received a wide variety of awards over his many years in the music business, this is the first award as a vocalist of the year from any organization. "I'd really like to thank the fans who nominated me along with everyone who voted for me for the IPA International Style Male Vocalist of the Year. I am truly honored," said Steve. The complete list of 2017 music winners together with the 2018 Hall of Fame inductees is available here.
---
Cruise and Bus Trip Travel Opportunities With Steve and the Band
March 25 , 2018
How long has it been since you've gone on a polka cruise? If it's been many years since you have cruised the Caribbean, that drought, no pun intended, ends January 19-26, 2019. Join Steve and the entire band together with Jimmy Sturr and His Orchestra and Mollie B with Squeezebox. Walter Ostanek, Bob Kravos, Kenny Brandt and many more will all be aboard the Celebrity Equinox for the Salute to Our Veterans cruise. It's a spectacular lineup both on the ship and on shore as we sail out of Miami to visit San Juan, Puerto Rico, St. Thomas in the Virgin Islands, Punta Cana in the Dominican Republic, and Nassau in the Bahamas. Book an oceanview or higher category cabin right now and receive both a classic beverage package and $150 per person shipboard credit. Back here on land, bookings are going fast for this year's bus trip to the Frankenmuth Music Fest August 16-18, 2018. More than half the seats on the bus are already filled but there is still time for your to get onboard. If you'd like to go along on either of these great trips, you can get more details on both the polka cruise and the Frankenmuth bus trip online on the Travel Page.